By Paul Bowers pbowers@postandcourier.com; 
DORCHESTER — As he inked a contract in front of a crowd Friday morning at the Dorchester County Career and Technology Center, high school senior Jordan Neblett was flanked by his beaming parents and his soon-to-be employers.
The scene had all the trappings of a college athlete's signing day. Only instead of a ball cap or a college hoodie, he was handed a hardhat and a yellow safety vest.
After studying carpentry at the public school program, Jordan had signed on to do skilled construction work for Knight's Companies in Summerville.
"We need to show the kids that getting a job and securing a future is just as important as getting a scholarship and playing sports," said Brad Davis, chairman of the center's board.
Career Signing Day was the brainchild of Assistant Director Bobby Behr, who has overseen plenty of college athlete signing days as athletic director at Ashley Ridge High School in Summerville. He debuted the event this year, at a time when four-year colleges across the country are reporting a declining interest in traditional liberal arts programs.
Behr, who earned a degree in political science from Furman University, said he wanted to celebrate students who enter skilled careers straight out of high school.
"I figured, why not? We'll go ahead and have a period of time when we can honor our kids who are going off to work, who are not going to go into debt with student loans, who are going to be so far ahead of their peer groups," Behr said Friday.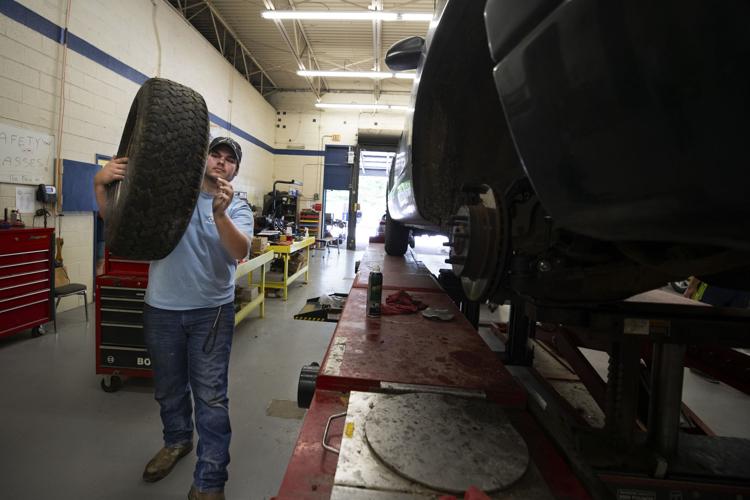 South Carolina has one of the highest rates of student loan debt in the country. College graduates in the state had an average of about $30,900 of student loan debt, ranking 14th among the states, according to data collected by the Institute for College Access and Success.
The Career and Technology Center is funded by Dorchester County at a cost of about $4.8 million per year across two campuses. The program offers training to high schoolers from anywhere in the county, including private schools, home schools and both of the county's public school districts.
Students like Neblett, a senior at Woodland High, spend part of each school day during their junior and senior years either at the Career and Technology Center or at job sites, getting hands-on training.
The main campus in Dorchester has about 520 students enrolled this school year, Behr said.
According to the county's recent strategic plan, 18 months after graduating, 98 percent of students from the Career and Technology Center are either working, attending college or serving in the military.
The 15 students featured at Career Signing Day are heading into skilled jobs, some of which pay more than $15 an hour at entry level. Grace Rudd of Woodland High is heading to work at Santee Animal Hospital after studying to be a veterinary technician. Home-schoolers Brice McAlhaney and Ethan Postell, who studied welding, are going to work for The BID Group.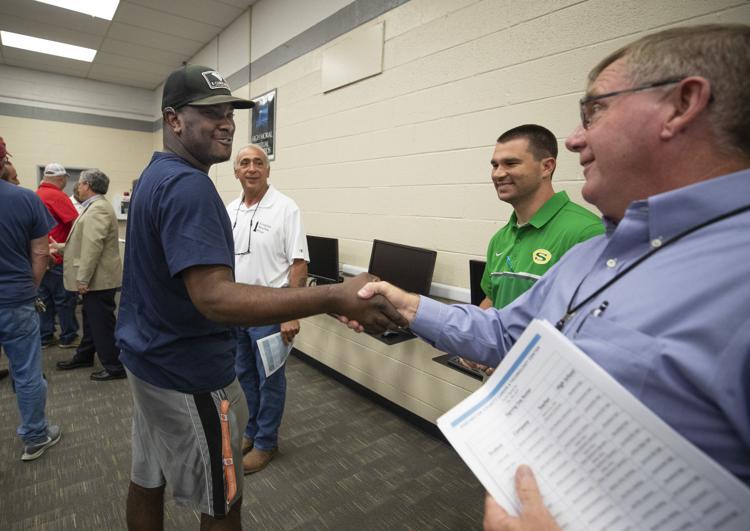 Donnie Tucker, a Summerville High senior, studied in the auto body program but will apply some of the skills he learned while working as a finisher at Empire Marble Plus, which produces and installs marble building materials.
His mother Gloria couldn't hold back a smile as she stood behind him at the front of the room. She said later that her son was born premature, and doctors once told her he'd never walk. Now he's taller than she is, has graduated from high school and is headed into a steady job.
"I'm so proud of him," she said. "If you only knew the path he's taken."
Neblett, 18, said the Signing Day ceremony made him a little nervous, but it reinforced something he discovered in a carpentry class this year.
"This is what I want to do," he said.
Pete Knight, owner of Knight's Companies, showed up for the event to shake Neblett's hand.
"It's a big day," Knight said. "Hopefully, it's a situation where he'll be a long-term employee."